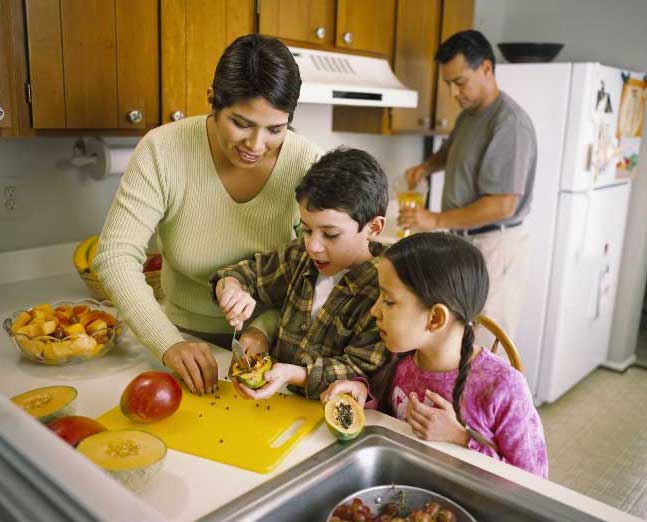 Cooking Matters at Home: English Series
Join us online for FREE online nutrition and cooking education lessons! The Cooking Matters at Home program shares information about buying healthy, affordable foods that families can prepare and eat together at home.
All lessons will be held via Zoom. The Zoom link will be sent to participants after completing the registration form. Participants have the opportunity to receive a $10 grocery store gift card, provided by Inter-Faith Food Shuttle. Below is information on our upcoming series of English lessons. This page will be updated as new series are added.
---
Cooking Matters at Home: Fall Lessons
Wednesdays at 7pm
Lesson 1
Wednesday 10/6: Cooking Matters at the Store
Tips to save money and buy healthy items on a budget at the grocery store.
Lesson 2
Wednesday, 10/13: Money-Saver Alert
How to use what you have and save money on groceries while limiting food waste for your family.
Lesson 3
Wednesday, 10/20: No More Mealtime Madness
Tips to plan and prepare quick, budget-friendly, and chaos-free meals
Lesson 4
Wednesday, 10/27: Drink to Your Health
Learn about sugary drinks and how to make healthy and delicious alternatives.
Lesson 5
Monday, 11/3: Making Recipes Work for You
How to make recipes work for your family by using what you have on hand and ingredients your family members love.
Lesson 6
Wednesday, 11/10 Family Kitchen
Tips to involve the whole family in making healthy meals and snacks that everyone will enjoy.
---
This material was funded by USDA's Supplemental Nutrition Assistance Program – SNAP.
This institution is an equal opportunity provider.